Sponsored Links
Just like Nigeria's ex-President Goodluck Jonathan, who called the then All Progressives Congress, APC candidate, Gen. Muhammadu Buhari, to concede defeat in the 2015 Presidential election, Ghanaian's incumbent President, John Mahama, has called Nana Akufo-Addo, his major opponent in the presidential election, to concede defeat.
Mahama, called Akufo-Addo to congratulate him on his victory, just before the electoral commission announced the final winner.
Akufo-Addo said on Twitter that Mahama called him congratulating him on winning the 2016 presidential election.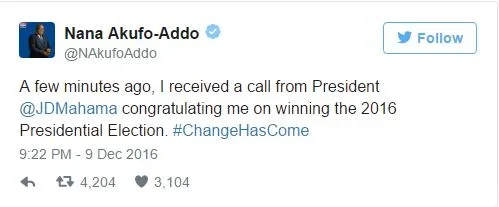 Follow Us on Twitter!
Like Us on Facebook!
Do You Need a Sugar Mummy, Sugar Daddy, Girlfriend, Boyfriend Wife or Husband? If Yes, Then Click Here For Details